Click here if you are having trouble viewing this message.
Leading Insights, News, and Knowledge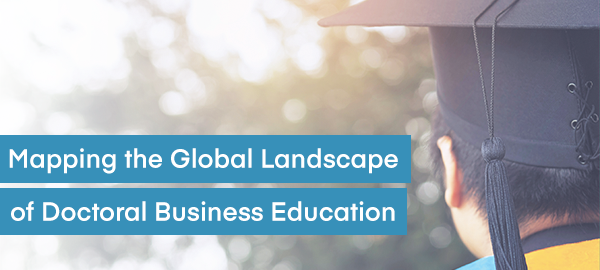 AACSB and European Doctoral Programmes Association in Management and Business Administration (EDAMBA) came together to learn more about the global landscape of business doctoral programs, including the defining characteristics, points of variability, unique challenges and opportunities, and what might be next in terms of innovation.
Challenging Students to Improve the World
The University of Pittsburgh launches a hackathon-style event that encourages students to design solutions to homelessness and other social problems. Read More
A Different Definition of Success
Jacqueline Novogratz, founder of the impact investment firm Acumen, wants to put purpose, not profits, at the center of business. Read More
Serving Society Through Scholarship
Schools highlight just a few of the ways their faculty are making a difference—and their strategies for making impactful research the norm, not the exception. Read More
High Demand for Graduate Management Education
As fears about the pandemic fade, more students want to pursue business degrees. Read More
Member Highlights
Haina Zhang has been named the next head of the University of Aberdeen Business School in Scotland, where she currently is a chair in management and director of internationalization. She begins in August, succeeding Martin Meyer, who will become vice rector of Finland's University of Vaasa. Read More
The University of South Florida (USF)—which has campuses in St. Petersburg, Tampa, and Sarasota-Manatee—has launched a new student internship program. Students who complete Business for Good internships will work directly with business leaders on the B Impact Assessment. Read More
Sasin School of Management in Bangkok has opened its newly renovated space in the school's main building. The participant-oriented facilities include workshop areas, a commons, a café, and large gathering spaces, as well as the Sasin Sustainability and Entrepreneurship Center. Read More
If your business school has new appointments, programs, collaborations, or other news to share, please send relevant information to us at editor@aacsb.edu.
Turning Science and Practice Into Simulation-Based Experiential Learning
Sponsored and Presented by Capsim
Session 1: May 5, 2021 | 11:00 a.m. EDT | 5:00 p.m. CEST
Session 2: May 5, 2021 | 8:00 p.m. EDT | 8:00 a.m. SGT (next day)
Discover how institutions and faculty leverage simulations as a vehicle to drive meaningful student development and engagement across the curriculum in both virtual and traditional learning contexts.
Did You Know? 
Respondents to the 2019-20 Business School Questionnaire noted that only 7.8 percent of programs offered at business schools are doctoral programs. Learn more about program-level data in the newly released 2021 Business School Data Guide.
AACSB LINK is an electronic, weekly newsletter produced by AACSB International. AACSB LINK shares global business education perspectives, accreditation stories, data trends, the latest business school research, and industry news. Subscriptions to AACSB LINK are free.
Have an idea for a blog article or content piece? We'd love to hear from you. Contact us to submit.
Reserve space for your digital ad on AACSB LINK. View the ad options and rates.
AACSB International
777 South Harbour Island Boulevard, Suite 750 Tampa, Florida 33602 USA
331 North Bridge Road #10-04/05 Odeon Towers Singapore, 188720
UP Building Piet Heinkade 55 1019 GM Amsterdam, The Netherlands