Click here if you are having trouble viewing this message.
Leading Insights, News, and Knowledge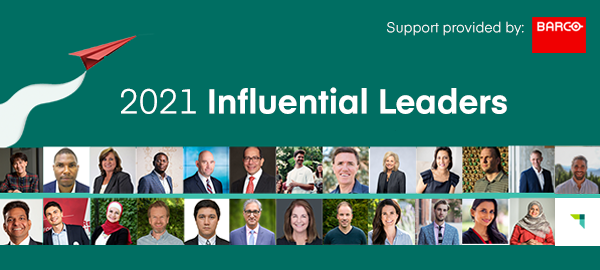 We are pleased to introduce our 2021 Class of Influential Leaders, a group of 25 business school alumni who are using their business education for societal impact in unique ways. Representing AACSB-accredited business schools in 15 countries, this year's honorees include diversity and inclusion advocates, social entrepreneurs, economic development experts, and healthcare executives.
The 'Continuous Work' of Teaching Ethics
What will it take to advance ethical business practices in Middle Eastern and North African countries? Two scholars share their perspectives. Read More
Ethical Reset: A Sustainable Recovery
The pandemic has forced many businesses to rethink their operations. Can business schools help guide them toward more sustainable practices?Read More
Building Bridges Over the College-to-Career Gap
How Bauer College pushes students past "the last mile" of skill development, moving them more effectively from college to work. Read More
Embedding Sustainability Into Business Education
Practically speaking, how do business schools integrate sustainability into the core curriculum? Learn More
Member Highlights
Vichita (Vathanophas) Ractham has become the new dean of the College of Management at Mahidol University (CMMU) in Salaya, Thailand, where she most recently was an associate professor in knowledge management and, prior to that, deputy dean for academic services. Read More
The Rotman School of Management at the University of Toronto in Canada is planning two new offerings geared toward minority students and business leaders: a course on Black entrepreneurship and leadership in Canada and a Future Black Business Leaders Conference. Read More
A survey from the MBA Roundtable shows that administrators believe they managed well during last spring's quick transition to remote learning. The report includes responses from deans, directors, and faculty at 118 schools who were surveyed during November and December 2020. Read More
International Conference and Annual Meeting
April 6–9, 2021
The past year has led us to rethink fundamental assumptions, yet too many leaders are reacting instead of looking for opportunities to think again. Join Adam Grant, organizational psychologist at the Wharton School, for a keynote session on leading proactively and opening others' minds. Grant will examine how we can build a learning organization that improves on the status quo.
Did You Know? 
The top leadership development platforms/providers that are most appealing to employees are in-house leadership development programs and leadership mentors/executive coaches. Learn more about what industry partners have to say about how business schools can improve in AACSB's collaborative report with SHRM.
AACSB LINK is an electronic, weekly newsletter produced by AACSB International. AACSB LINK shares global business education perspectives, accreditation stories, data trends, the latest business school research, and industry news. Subscriptions to AACSB LINK are free.
Have an idea for a blog article or content piece? We'd love to hear from you. Contact us to submit.
Reserve space for your digital ad on AACSB LINK. View the ad options and rates.
AACSB International
777 South Harbour Island Boulevard, Suite 750 Tampa, Florida 33602 USA
331 North Bridge Road #10-04/05 Odeon Towers Singapore, 188720
UP Building Piet Heinkade 55 1019 GM Amsterdam, The Netherlands