Click here if you are having trouble viewing this message.
Leading Insights, News, and Knowledge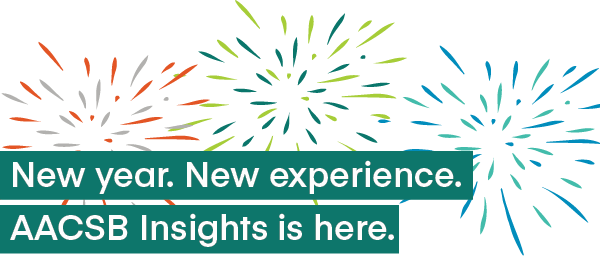 With a new year comes a new reader experience. BizEd magazine and the AACSB Blog have merged to become AACSB Insights, a digital content platform covering topics relevant to business education stakeholders, from business school administrators, faculty, and communications staff to business leaders and recruiters. 
As the industry continues to emerge from the pandemic—and to evolve beyond it—AACSB Insights will share your stories, highlight best practices, and connect business schools and industry. As an AACSB publication, we will promote the association's mission to foster engagement, accelerate innovation, and amplify societal impact in business education. We welcome your submissions and look forward to sharing your stories in 2021!
Entrepreneurs for Good
California universities develop a series of courses designed to turn students into mission-driven entrepreneurs tackling climate change. Read More
5 Zoom Lessons for Leaders
During the pandemic, business leaders can learn from educators about overcoming the communication challenges that video conferencing platforms present. Read More
The New Teaching Paradigms
Now that we have made investments in enhanced online education, it seems imperative that we employ them to their greatest advantage. Read More
Member Highlights
In March, Stéphane Brutus becomes the new dean of the University of Ottawa's Telfer School of Management in Ontario, Canada. He is currently a professor in motivation and employee performance at the John Molson School of Business at Concordia University in Montreal, Quebec, where he also served as interim dean from 2015 to 2017. Read More
In 2021, the University of Pretoria's Gordon Institute of Business Science in Johannesburg will launch a master's of philosophy in change leadership designed to help leaders drive change in a digitally disruptive world. The course combines content that focuses on managing change at the organizational level as well as developing personal competencies to handle change holistically. Read More
Six business schools from around the world have formed the B2M–Bachelor-to-Master alliance to make it simpler for undergraduates from member universities to apply to master's degree programs at schools within the network. Founding members include ESSEC Business School, IE Business School, the Hong Kong University of Science and Technology, the Smith School of Business at Queen's University, the University of Mannheim Business School, and the Warwick Business School. Read More
Did You Know? 
Of the 804 participating schools in the Business School Questionnaire, the average number of full-time female faculty at a school is 22, with the average number of male faculty reported is approximately 44. Learn more by viewing the 2019-20 BSQ Questionnaire Executive Summary.
AACSB LINK is an electronic, weekly newsletter produced by AACSB International. AACSB LINK shares global business education perspectives, accreditation stories, data trends, the latest business school research, and industry news. Subscriptions to AACSB LINK are free.
Have an idea for a blog article or content piece? We'd love to hear from you. Contact us to submit.
Reserve space for your digital ad on AACSB LINK. View the ad options and rates.
AACSB International
777 South Harbour Island Boulevard, Suite 750 Tampa, Florida 33602 USA
331 North Bridge Road #10-04/05 Odeon Towers Singapore, 188720
UP Building Piet Heinkade 55 1019 GM Amsterdam, The Netherlands