Click here if you are having trouble viewing this message.
Leading Insights, News, and Knowledge
International Students and Business Education: Whither or Wither?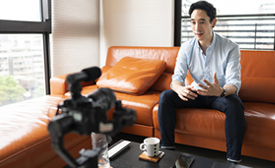 5 Ways B-Schools Can Demonstrate Value During COVID-19
The AACSB Advantage
Virtual Networking Community Meetings
Eight AACSB communities are meeting on September 22, 2020, in conjunction with the Global Accreditation Conference. Topics include teaching and learning online, using student consulting projects in the classroom, understanding Black Lives Matter in academia, and demonstrating courageous leadership during times of crisis. Interested in attending? Individuals from AACSB member institutions can register for free!
Did You Know? 
According to data submitted for our 2018-19 Business School Questionnaire, global recruiting among participant schools is the most common for graduate programs, where schools recruited with this focus for MBA programs at 39%, EMBA programs at 31%, other master's programs at 44%, and doctoral programs at 63%.
See more survey insights in AACSB's 2018-19 Business School Questionnaire Executive Summary.
Sept. 28–Dec. 6, 2020
Online Teaching Bundle: 
Getting Started, Engagement, Assessment
Online Courses
AACSB International
777 South Harbour Island Boulevard, Suite 750 Tampa, Florida 33602 USA
331 North Bridge Road #10-04/05 Odeon Towers Singapore, 188720
UP Building Piet Heinkade 55 1019 GM Amsterdam, The Netherlands